"Tell her why. At least give her the chance to have feelings about it. For god's sake!"

– Meredith Grey, Grey's Anatomy Season 2 Episode 2
Sabi dito ENTJ daw personality ko. Sabi rin "ENTJs desire closure in their lives, wanting to make conclusions about things or people quickly." AWOW! I'm not one to easily believe these online quizzes and tests but I have consistently gotten an ENTJ result the past few years. (I used to be ENFP.)
Anyway, the point is… apparently, I need closure. Personality test and diagnosis aside, yes, I am that person. It took me almost five years to get over my first love. And he wasn't even my boyfriend. We just had an on and off thing. I moved on because I got the closure I wanted. We didn't really part ways. Rather, he got himself a girlfriend. And yes, brave old me was calm and collected. I maintained my friendship with the guy. And his girlfriend. HUWOW! That started a pattern in all my relationships which I terribly regret now.
So how did I get the closure I wanted? I asked for it. Some four or five years after he got himself a girlfriend, we met up for dinner. And I asked all the questions I wanted to ask and got the answers I had to hear. And there you go, I was finally over him. More recently, I have had the same experience. Even if it was clear for a long time that me and this ex were never ever gonna be together, I was not able to move on. Not necessarily because I still wanted to be with him, I just really needed him to apologize, to tell me his reasons, to give answers that I think I deserve. And there you go, I am finally ok and we can finally be truly friends.
But this does not happen often. People leave without so much as a good bye. At eto ako… basang-basa sa ulan, walang masisilungan, walang malalapitan. Wait… well, it seems a bit that way. When somebody chooses somebody else or leaves me, or just cuts off ties for whatever reason, I seem like a lost child. Like I don't know what to do and where to go. Iniwan sa ere. Ain't such a great feeling. And FML! It happens to me all the time.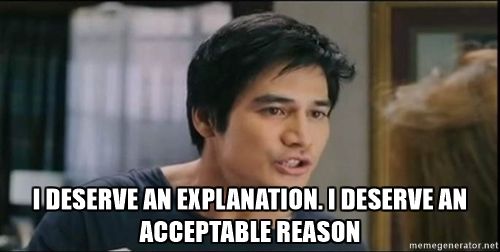 Eto na naman ako… paulit-ulit na lang. Sabi nga sa kanta nila Piolo at Sarah G (totally different movie, BTW), "Paano ba ang magmahal? Palagi bang nasasaktan? Umiiyak na lang palagi, Gusto ko nang lumisan." Sakit beh. Minsan (and most recently), di pa nga ako nagmahal, like pa nga lang… thumbs up pa nga lang, di pa napusuan, nasaktan na. OUCH! Sakit, beh.
Once again, I am like a lost child. Pero eto ang maganda, with the help of my friends, nagka-epiphany ako. YES! After 34 years of existence and 21 years of liking, loving, investing emotions, and ending up heartbroken and lost, ETO NA BEH! Natuto rin ang puso kong tanga.

No, I do not need the other person to give me closure. Minsan talaga ganun. Sh*t happens. Walang dahilan. People change their minds. Minsan pinaglalaruan ka lang talaga. Minsan people just use you to feed their ego. Minsan nacha-challenge lang pala sila sayo. May mga lalaking asshole talaga. People disappoint you. Minsan di ka lang talaga nila mahal. They don't love you. Yun yun!
No, I do not have to pretend like I'm ok. This is it. After 21 years of hurt, abandonment, and disappointment… galit na ako. I am finally allowing myself not just to feel sad and depressed but angry. HUWOW! And yes, galit ako hindi lang dito sa lalakeng ito na umiwan sa akin sa ere. Pero sa lahat sa kanila na mga lalakeng iniwan ako. Ano man ang dahilan, whatever the circumstance… TONGENUH! I don't have to be rational and logical. Dinurog nila puso ko, may karapatan akong magalit at maging bitter. HALLER! Karamihan sa kanila biglang binalikan ang ex, biglang engaged, biglang nagpakasal pagkatapos nila ako iwan. #TrueStory Anong pahiwatig, mga beh? Dati tinatawanan ko yun pero ngayon galit na ako. I am savoring this moment to be angry and bitter and hate them. Yes, all of them.
So yes, I do not have to be friends with them. Itigil na ang pagpapanggap. I do not have to destroy them. No revenge necessary. But it is best for my own sanity, for my own well-being if I don't pretend that things are ok. I am giving myself the opportunity to feel hurt. To be angry. To hate them. To be bitter. To be petty and judge them. To say sh*t like "ANG PANGIT NG PINALIT MO SA AKIN. It's your loss, not mine." Also "Ang bobo naman niyan." Pati "You deserve each other." Tsaka "Pumangit ka!" Higit sa lahat "Ew! Bakit kita pinatulan?!"
Ito ang pinakamahalaga sa lahat ng mga natutunan ko: I do not have to work hard to get and deserve love. PAKYU ninyong lahat. DIYOSA AKO! DIYOSA!!! I do not have to go the extra mile, exert too much effort, experience too much pain, struggle too much, and give my all just to get love. Darating ang panahon, matitikman ninyo ang batas ng pusong api. CHARET! Seriously, nobody has to work to deserve love. I am enough.
There is a part of me that still asks. That needs to ask, that questions, but I am working on that. They don't want me… F them. Screw them. I can do better. I can be better. With or without a partner.
Hindi man ako para sa kanila at hindi sila para sa akin, I truly and honestly believe I will get the love the deserve. Be it from a partner or my from my family and friends. And only I can determine and accept what I deserve.
So here I am struggling with all these. Letting myself feel feels and crapping my emotions all over the place. Because eff it… I am finally giving myself the chance to process my feelings and undergo the stages of grief. Yes, push na to. Getting angry and being bitter. Letting go. Accepting things. Moving on… for all the boys I loved, liked, dated, whatever. Isang bagsakan. Kakayanin.
I will be stronger. I will be better. DIYOSA AKO! I will no longer put others' feelings and needs before mine. I will no longer accept your BS. Bye, now.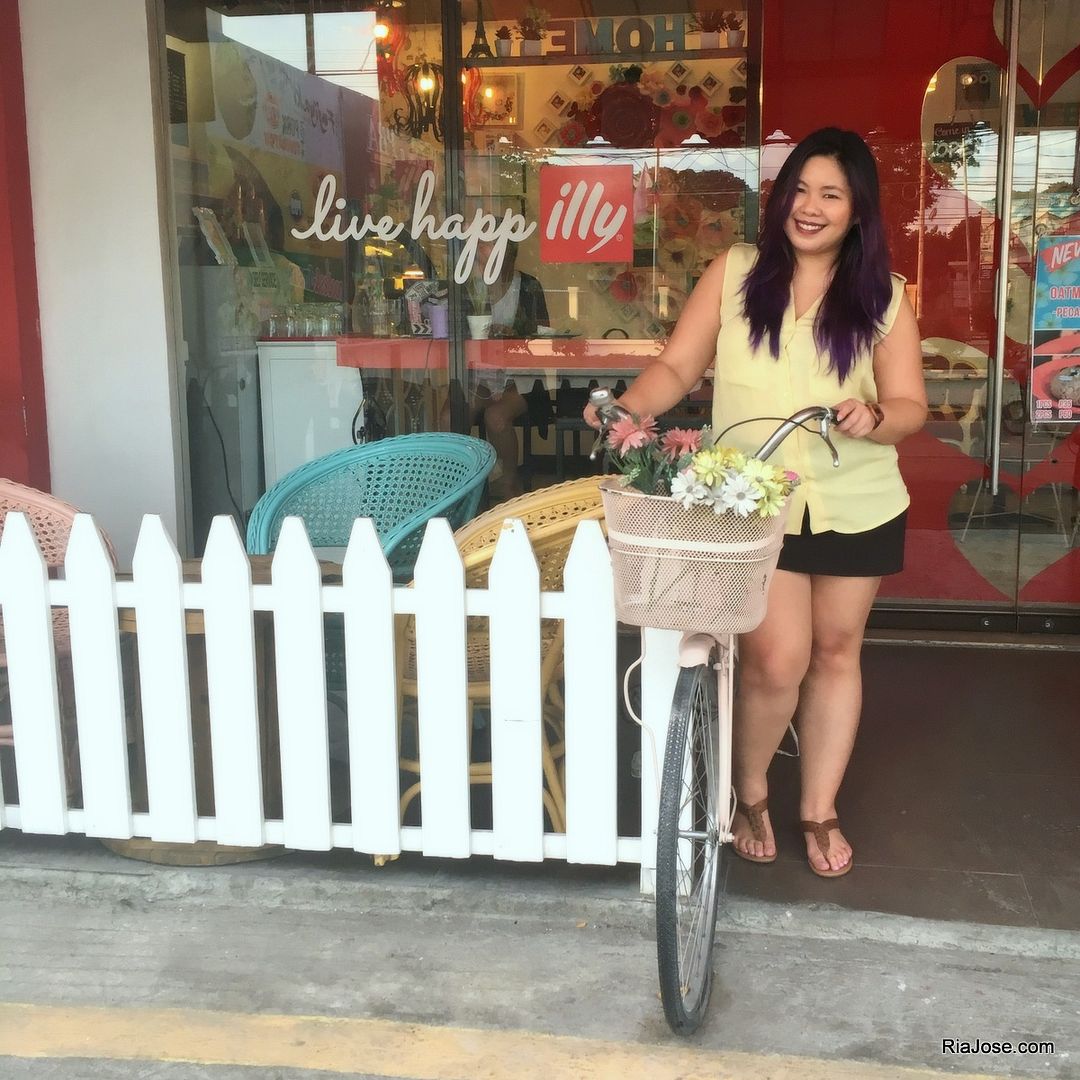 Photo of Ria Jose by Kezia Medina.