"That Ang Larawan is currently trending made me cry. Like real tears at 5 am. Gaiz, don't just tweet about it. Watch it! It will speak to you on so many different levels. The music is by @ryancayabyab. And hallo! Material by National Artist #NickJoaquin, and #RolandoTinio." -My tweet at past 5 am today, December 29, 2017
I am no movie critic but every now and then, a film moves me and compels my fingers to type out words. Hard as it may be to express why a film is worthy of your time, let's try. Shall we?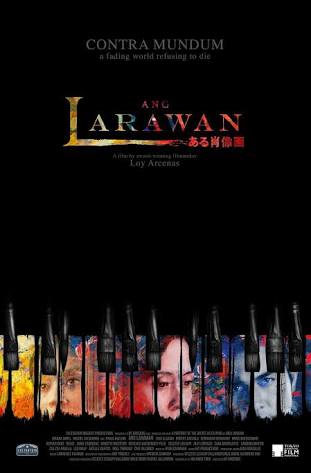 Ang Larawan is a film based on a musical play based on a play. The play "A Portrait of the Artist as Filipino" is by National Artist Nick Joaquin, best known (and loathed by many students) for May Day Eve, a required reading for high school and college students. "A Portrait of the Artist as Filipino" has been tagged as the most important Filipino play.
The material was translated to Filipino, Ang Larawan, by Bienvenido Lumbera, also a National Artist.
Rolando Tinio wrote the libretto for the musical play "Larawan." Music was composed by Ryan Cayabyab. The first run of the musical play starred Celeste Legaspi, Zsa Zsa Padilla, and Ricky Davao.
Boring set of facts, you say? I share these to make you realize the amount of artistry and talent that has been immortalized in 2 hours worth of drama, laughter, and music.
The film Ang Larawan showcases and represents the best of the Philippines' literature, theatre, music, and film. And, ironically, one of the things it talks about is how artists are much too often made to choose to suffer for their passion or abandon their passion for loftier economic and social gains.
There is so much I can talk about regarding the film's story, themes, and all the issues it tackles. Most important of which that people should know of… is articulated by the film's millenial actor, Paulo Avelino. On why he wanted to be part of the film, "we have been making mistakes then that are still happening now."
The Metro Manila Film Festival and all the hoopla that accompanies it every year: the debates between economic viability and artisty, on whether the festival should value artistic films versus more commercial ones, the elevation of art and preservation of culture vs commercial viability… all-too familiar questions that we all have heard of but have not really resolved or tried to resolve. Ang Larawan takes these issues and tackles them head on. Artistics pieces might not always be profitable but it will continue to outlive us all.
What makes "Ang Larawan" remarkable is how good all the actors are. Yes, even Paulo Avelino excels as the douchebag Tony Javier. I watched the rehearsal video and it seems like his voice wasn't even autotuned. Hah! Avelino trained for months and worked with his co-actors to be able to deliver a credible Tony Javier. That's dedication. Looking forward to Goyo.
Candida and Paula
This film, however, belongs to its women, Joanna Ampil as Candida and Rachel Alejandro as Paula.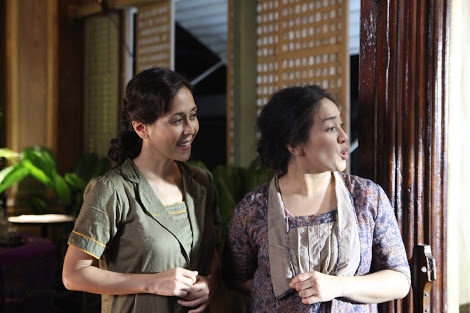 Joanna Ampil won Best Actress in the MMFF. A lot of those who didn't even watch the film question her win. But dammit, she deserves not just one trophy for this film. Her powerful voice may be her best asset but when she acts, it's as if her whole body is being possessed by Candida. Ampil's eyes, her furrowed brows, her lips, her hands… everything about her speaks even when she's not singing or speaking. Her performances during the blackout song "Walang Ilaw" and in her confession "Ako'ng Nagkamali," were so moving. It was as if I could feel her sadness jump from the screen, infecting me with melancholy. Every word she uttered had so much conviction that you cannot help but take her side.
And yes, Rachel Alejandro as the quiet and conflicted Paula also deserves an award. We all know Alejandro is a superb singer but in this film, she shows us she's also an excellent actress. When she declared "Malaya na ako." I was like "Yas, gurl!"
Even better than Joanna Ampil and Rachel Alejandro are Ampil and Alejandro together. They played off each other well. "Kay Sarap ng Buhay Nu'ng Araw" is my favorite duet of the two.
"Kagandahan, katotohanan ang panlaban ko sa mundo. Wala akong takot. Walang panlulumo. Bumaha man o bumagyo."
The lyrics were so simple yet so meaningful and they delivered each line of that song so sincerely.
Both powerful performers, you never got the feeling that they were trying to upstage each other. They worked together beautifully. Mabuhay Candida! Mabuhay Paula!
The Ensemble
My favorite moment is Robert Arevalo as Don Perico delivering the film's most thought-provoking lines:
"Hindi simple ang buhay, katulad ng sining. May pwersang humuhubog sa ating landasin. Hindi tayo'ng may hawak sa kinabukasan. Nagmimiron ka lamang sa'yong kapalaran."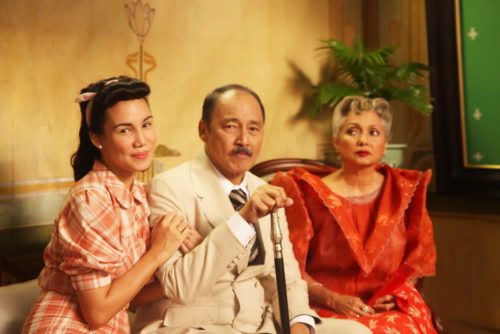 The sorrow and conflict in his eyes and in every line on his face… it was all-consuming and perhaps the part of the movie that really captured my heart and mind.
Continue reading Ang Larawan →