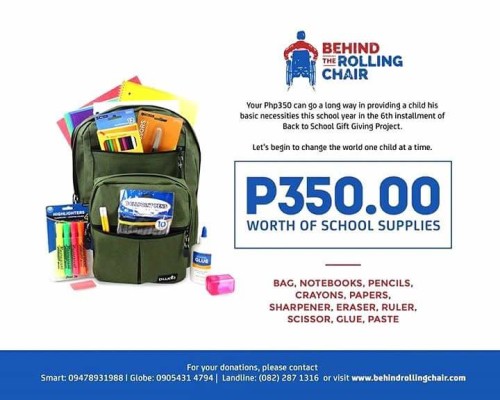 Summer is here. Time to gather your friends, go on a trip, sip those cool shakes, get crazy. It's also time for Behind the Rolling Chair's Back to School Gift Giving Program.
Since it started, the program has benefited over 400 streetchildren and orphans yearly. This year, we are inviting you once again to help in this project:
There are many ways to help. Here are some:
Donate any amount. P350 will buy a complete set of school supplies for one child.
Donate school supplies.
Solicit donations from your contacts. Corporate sponsors are welcome.
Volunteer to help in the packing/repacking and in the preparations for the distributions.
Post this on social media and encourage others to donate.
Donate food for the volunteers and for the beneficiaries during the distribution.
Volunteer and join the distribution.
And yes, it's also my birthday soon and I do not have the time and the energy to celebrate my birthday this year so I am inviting all my friends, relatives, and followers to celebrate my birthday by donating and participating in this Back to School Program.
If you're interested in helping out you may contact me at riajose@gmail.com or contact Nap of Behind the Rolling Chair at +63947-8931988 (Smart), +63905-4314794, or +6382-2871316. Visit Behind the Rolling Chair's blog at www.behindrollingchair.com for more details.